Should I Hire a Lawyer After a Car Accident?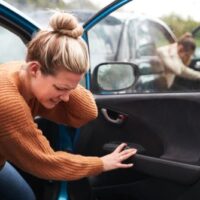 If you have been injured in a car accident in California, one of the most important steps to take is hiring an experienced personal injury attorney to help you obtain your entitled compensation. But many people believe they can handle their own claims or that their insurance company will take care of them.
However, hiring a lawyer can significantly benefit your case. You need a knowledgeable and skilled professional to not only guide you through the legal process, but to protect your rights and best interests from start to finish.
The following are several reasons why you should hire a personal injury attorney when you are injured in a car accident:
Prove liability – In order to succeed in a car accident claim or personal injury lawsuit, you must prove that the at-fault driver's negligence caused the collision and your injuries. It is not uncommon for a negligent party to partially or completely blame an accident victim for the accident. An attorney can thoroughly investigate the accident, obtain the accident report, interview witnesses, collect medical records, and reconstruct the crash scene to build a strong case on your behalf.

Determine the value of your damages – To avoid a lowball settlement offer, you must determine the true value of your claim to cover the full extent of your losses. Your attorney can ensure you receive compensation for past and future medical expenses, property damage, past and future lost income, and non-economic damages like pain and suffering.

Deal with your insurance company – After paying monthly auto insurance premiums, you expect your insurer to take care of you in the event of a crash. Unfortunately, insurance companies are focused on making money, rather than protecting the best interests of their customers. Insurance adjusters will attempt to reduce and/or deny valid claims. A lawyer can handle all the paperwork, gather the evidence and statements, and negotiate with the insurance adjuster to reach a fair settlement.

Handles your case while you recover from injury – Handling a car accident claim can be time-consuming and stressful, especially if it is your first time being involved in a collision and/or suffering a serious injury. You need someone on your side who has dealt with similar cases like yours. Your attorney can do all the legwork in your claim while you make the best possible recovery from injury.

Navigate repayment of your medical bills—What most people don't realize is that their medical bills, regardless if paid by their private health insurance company or Medicare, will likely need to be repaid. The nature and amount of the repayment depends on the type of payer, and various other circumstances. This will be one of the most complicated aspects of your case. An experienced personal injury attorney will educate you on the reimbursements that need to be made and will work tirelessly to resolve your bills in an effort to maximize your ultimate recovery.

Be there for you! – One of the most overlooked roles of a personal injury attorney is that of a counselor. Your lawyer should be there for you to assist and help you navigate through life after an accident or tragedy. Experienced personal injury attorneys have helped numerous clients going through what you are going through and can provide support and resources. We are people first!
At Zavala Law, PC, Attorney Matt Zavala has nearly a decade of experience handling car accident claims and a wide range of personal injury matters. He previously defended the interests of insurance companies and large corporations so he knows the games they can play and where to hit them!
If you have been injured in a car accident, call Zavala Law, PC at 805-429-4292 or fill out our online contact form today to schedule a free consultation. Available 24/7!