Thanksgiving & Christmas Holiday Safety Tips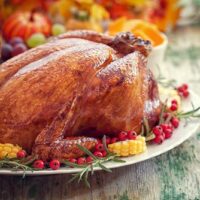 From spending time and exchanging gifts with loved ones, to decorating your home and long trips by car or plane, the holidays are a wonderful time of year. However, there are also many safety hazards you may encounter during this time of year. Here are several tips to help you avoid injury this holiday season.
Driving
If you plan to hit the road during the holiday season—whether you are driving to a festive gathering, doing some holiday shopping at different malls and stores, or embarking on a road trip—there are a wide array of driving dangers that can lead to serious and fatal car accidents. Common dangers include drunk driving, stressed driving, drowsy driving, driving in unfamiliar places, limited daylight, and inclement weather conditions.
Here are some safety tips to avoid being involved and injured in a car accident this season:
If you plan on consuming alcohol at a holiday gathering, avoid drunk driving by either asking someone to be your designated driver, requesting a ride home from Uber or Lyft, taking public transportation, or booking a hotel/motel room or spending the night at a friend or loved one's home.

If you are going on a long road trip, schedule maintenance for your vehicle, get plenty of sleep the night before the trip, check weather and traffic conditions before heading out, avoid distractions while behind the wheel, mind your speed, and drive defensively.

If you feel drowsy while driving, either ask someone in the vehicle to take over driving duties, find a rest area, or check into a hotel/motel and take a snooze.

If the stress and financial pressures of the holidays are getting to you while you're driving, you are more likely to drive aggressively. To avoid stressed driving, take a few deep breaths to calm your body and mind, listen to soothing music or your favorite tunes to put yourself in a good mood, leave plenty of space between you and the vehicle in front of you, allow yourself extra time to commute or travel, or pull over to somewhere safe if you are feeling completely overwhelmed.
Decorating
Especially during the Christmas season, many people love to decorate the inside and outside of their homes. However, there are thousands of emergency room visits every year as a result of holiday decorating gone wrong.
The following are several holiday decorating safety tips:
Since nearly half of holiday decorating injuries involve falling, you must never use furniture as a ladder. When using a ladder, be extra cautious, ensure the ladder is properly stable, and wear shoes with good traction to avoid slipping. Always keep at least three points of contact on the ladder (e.g., two feet and one hand or two hands and one foot).
Avoid hammering nails or tacks into electrical cord when hanging lights. Rather, safely attach lights to the house by using clips.
Ensure outdoor decorations and lights are plugged into circuits protected by ground fault circuit interrupters (GFCI) to prevent electric shocks.
Place cords and decorations in areas with low foot traffic to avoid trips and falls.
Only use heavy-duty extension cords designated for outdoor use and avoid overloading extension cords by using up to three sets of standard lights per cord.
Keep decorations and ladders away from overhead power lines
Fire Safety
Christmas trees, decorations, and candles can all increase the risk of home fires during the holidays. In addition, cooking fires often occur around Thanksgiving and Christmas.
The following are some holiday fire safety tips:
If you plan on purchasing an artificial tree, ensure there is a fire-resistant label. Do not place it near fireplaces, radiators, and any other heat sources. Do not decorate metallic trees with electric lights.
If you plan on buying a live tree, make sure it is fresh by bending the needles up and down to see if they fall off. Constantly water the tree at home.
Avoid hanging stockings and other decorations on the fireplace mantel.
Check all holiday light cords to see if they are broken or frayed. If so, throw them away.
Turn off the lights before going to bed or use a timer, especially if you are away from home.
When cooking, stay focused on the primary task of preparing a meal and mind your surroundings.
Ensure your smoke detectors are working and positioned at least 10 feet away from the stove.
Keep a fire extinguisher nearby.
Poisoning
Since many holiday gatherings involve a significant amount of food, the chances of getting food poisoning increases during this time of year. Additionally, decorations and even carbon monoxide (CO) can also lead to poisoning.
Here are several safety tips to avoid poisoning yourself or a loved one:
Always wash your hands whenever you handle food.
Avoid cross contamination by separating raw meat from fresh produce and using different cutting boards and plates for cooked and uncooked food.
Check if the meat is cooked at a safe temperature by using a food thermometer.
Refrigerate cold or hot leftovers within two hours after they are served.
Ensure dangerous plants are out of the reach of children. Holly berries, Jerusalem cherries, and even mistletoe can be poisonous if consumed in large amounts.
If you have been injured by another person's negligence in Ventura County, call Zavala Law, PC at 805-429-4292 or fill out our online contact form today to schedule a free consultation.